life at holiday factory
Our journey began in 2011. Our affordable holiday packages launched for the residents of UAE, resulting in a revolutionary change in the travel industry in this region. After such a successful launch we became the pioneers in UAE. We then expanded our enticing offers to those living in other countries of the Middle East, such as Oman and KSA.

You can book all of our packages right here, with just a click! Simply choose your preferred holiday destination and explore our holiday offers through our online booking engine.
Affordable for Everyone
We develop exciting touristic products with a significant price difference from what the market offers, and couple it with other services to provide our travelers a cost-effective memorable holiday experience. Our prices are not just a little bit cheaper, most of our packages are half the market price!
Pioneer in the UAE
In 2011, we began our journey by offering our affordable holiday packages to the residents of UAE and revolutionized the travel industry by becoming the pioneer within a short span. Since then, we have expanded to Oman & Saudi Arabia and have been awarded several Recognition awards along with the prestigious Emerging Leader Award in Travel -2018 by Khaleej Times.
Quality & Service
With our German background we bring advanced European standards to the travel industry in the Middle East. Our goal is to provide our travelers a seamless booking and travel experience, one that lasts a lifetime.
Our tour guides at destinations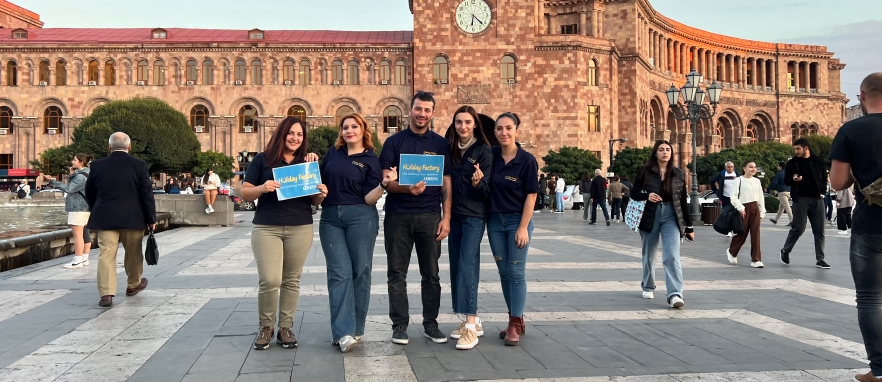 Armenia
Lilit Vardanyan, Destination Manager
Paris
Christelle, Destination Manager
awards & partners
Successful Partnership with Air Seychelles
Holiday Factory – Major Role in Seychelles Tourism
Amadeus Awarded Holiday Factory
Team holiday factory